ABOUT JUVENILE & FAMILY COURTS IN PERRY COUNTY, TENNESSEE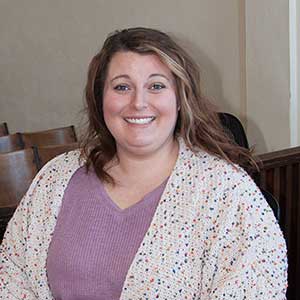 Taylor Qualls,
Youth Services OfficerIn Perry County, the Juvenile Court is a division of General Sessions Court, and is presided over by Judge Katerina V. Moore, who is the General Sessions Judge. Ms. Taylor Qualls is the Youth Service Officer and Judge Katerina Moore's assistant. Ms. Qualls serves in both positions. She helps with Youth Service Probation and oversees the youth related matters. She is a former Department of Children's Services (DCS) employee for XXX years, and has her degree in xxxxxx. She was with DCS for 5 years before transferring to the position with Judge Moore and Juvenile Court. Judge Moore stated, "We feel lucky to have Taylor join the General Sessions/Juvenile Court team because she has not only the background, but also the contacts for service providers." For example, Ms. Qualls and Judge Moore have been working on getting several providers in the county for mental health and more.
JUVENILE COURT JURISDICTION
A juvenile is defined as any individual who is under the chronological age of eighteen (18) years and who has not been previously transferred to an adult court. Juvenile courts deal not only with delinquency and status offenses, but also with issues concerning dependency and neglect, child abuse, child support, custody issues, establishing parentage, visitation, and the need for medical and/or mental health treatment for children.
Tennessee's juvenile courts have jurisdiction within the following areas:
Adjudication of children as dependent and neglected, abused, status/unruly, or delinquent
Determination of custody
Termination of parental rights
Ordering of treatment, evaluation and/or commitment of a developmentally disabled or mentally ill children
Commitment of children to the custody of the Department of Children Services
Establishment of parentage
Ordering and enforcement of child support for children of unwed parents
Establishing visitation for non-custodial parents
Enforcement of the compulsory school attendance laws
Removal of the age restrictions on a minor's application for a marriage license
Giving of judicial consent to a minor's employment or enlistment in the armed services if law requires such consent
Giving of judicial consent to the medical treatment of a child when his/her parents or guardians are unable to do so
Judicial authorization of an abortion without parental consent
Adjudication of alleged traffic violations by persons under the age of eighteen
Transfer of serious delinquency cases to criminal court for trial as adult
JUVENILE COURT SCHEDULE
Juvenile and Family Court in Perry County is a county-based general session court with juvenile jurisdiction. Juvenile court cases are heard on a set monthly schedule as follows:
2nd and 4th Thursdays at 1:30 are juvenile dockets.
4th Thursdays are child support matters.
2nd Friday of each month are delinquent and unruly cases starting at 9:00 a.m.
2nd Friday of each month are juvenile dependence and neglect cases at 10 a.m.
Juvenile Court is not announced in the paper, it is always confidential to protect the children.
Whether a Juvenile Court operates as a court division or separate court, it has exclusive jurisdiction over most juvenile delinquency and other juvenile cases, including juvenile dependency, child abuse and neglect, minors alleged to be unruly, and judicial consent to employment or military enlistment.

Criminal cases heard by Juvenile Courts include certain violations of parental responsibilities by parents or guardians. Juvenile Courts share jurisdiction with General Sessions Court over the offense of contributing to the delinquency or unruly conduct of a child. Some juvenile delinquency cases involving certain types of crimes are transferred to other courts to prosecute the juvenile as an adult. Juvenile Courts have jurisdiction over juvenile traffic offenses, and in some counties these cases may be referred to Municipal Courts. There are no municipal courts in Perry County, so the juvenile traffic offenses stay in General Sessions Court.

Juvenile Courts also share jurisdiction over some cases with Circuit Courts, Chancery Courts and Probate Courts. Juvenile Courts share jurisdiction with Circuit Courts and Chancery Courts over paternity cases, custody and other related matters to children of unmarried parents, and cases arising from the 1980 Hague Convention on International Child Abduction. Juvenile Courts share jurisdiction over child support with other courts that generally handles child support cases.

Juvenile Courts share jurisdiction with Probate Courts over the treatment or commitment of a child with a developmental delay or mental illness, some cases involving guardianship of a child, and judicial consent to marriage. Juvenile Courts share jurisdiction with Chancery Courts over cases involving termination of parental or guardianship rights. Juvenile Courts may transfer domestic relations cases to Circuit Courts, Chancery Courts, or General Sessions Court.

Juvenile Courts may have a Teen Court division for certain types of juvenile delinquency cases, including assault, burglary, theft of property, vandalism, forgery, unauthorized use of a vehicle, disorderly conduct, harassment, traffic offenses, runaways, truancy, curfew violations, and some drug offenses.
Pursuant to Tennessee Code Annotated § 37-1-159, the juvenile court is a court of record. It may enforce its orders in any way in which a court of equity may enforce its orders and decrees, including imprisonment and/or by fine for contempt. More information can be found at www.tncourts.gov.